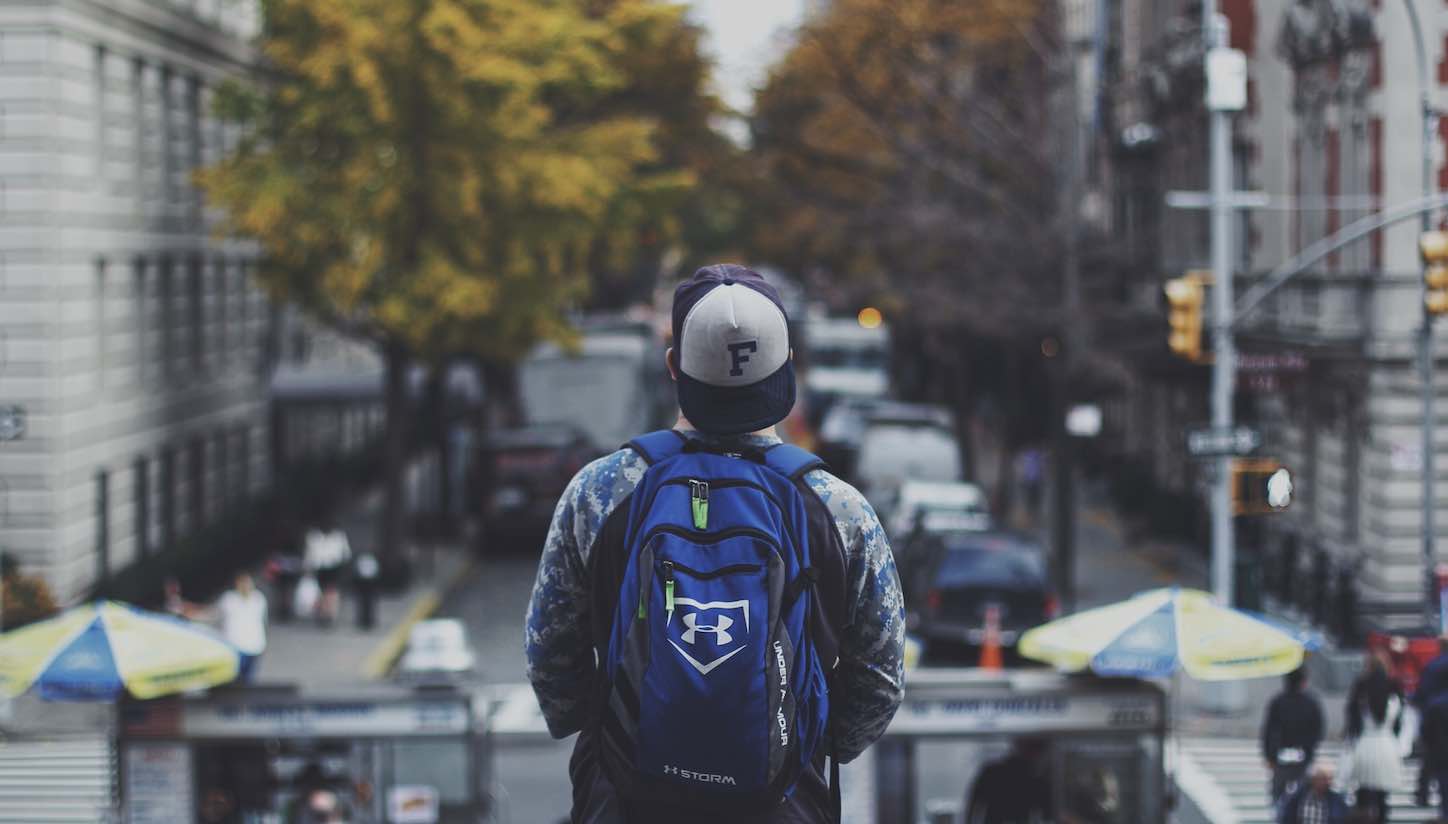 For a student, braving the extreme standards of school days and still be organized is quite a scuffle, but you can keep up if you own the best backpack for college. It allows you to store documents, books, and electronics at hand's reach. You'll need one with multiple compartments to keep everything in a clean fashion.
Not forgetting, that a backpack also makes your fashion statement even if you are on campus. It's a time to define your tastes and preferences. So if you don't know where to start in choosing your next backpack, we have rounded up TEN of the best rated to bring you this list.
Best Backpack for College Comparison Table
| Model | Materials | Sizing Notation | Weight | Product Dimensions | Shoulder Straps Design |
| --- | --- | --- | --- | --- | --- |
| 10. JanSport Laptop Backpack Odyssey | Polyester Dobby | Regular standard size for 15inch laptop | 2.9lbs | 20x14x12 inches | Air Core straps |
| 9. Tumi Calais Voyageur Backpack | Nylon and leather | Regular standard for 15inch laptop | 2.8lbs | 5.9×11.2×15.6 inches | Adjustable and Padded straps |
| 8. Kensington SecureTrek Lockable 15-Inch Anti-Theft Laptop | Poly Twill material | Regular standard size for 15inch laptop | | 8x13x19.5 inches | Customized padding on shoulder straps |
| 7. Incase Icon Slim Pack | Durable Nylon and Faux interior | Fixed size for 15inch laptop | 2lbs | 8.4×18.6×12.4 inches | Contoured, padded straps |
| 6. Everki Atlas Laptop Backpack Checkpoint Friendly | Polyester and mesh | Larger than regular standard size for 17inch laptop | 3.8lbs | 13.5x9x18.9 inches | 5-point balance strap system |
| 5. The North Face Recon Backpack | 210D Cordura Nylon | Larger than regular standard size for 15inch laptop | 2.4lbs | 9.5×19.2×14 inches | Injection-molded straps |
| 4. Ogio RSS Renegade Laptop Backpack | 600D polyester | Regular standard size for 17inch laptop | 3.6lbs | 19.5x14x10.5 inches | Foam shoulder straps |
| 3. JanSport Big Student Backpack | 600 Denier Polyester | Larger than standard size for 15inch laptop | 1.3lbs | 13x10x17.5 inches | S-curved shoulder straps |
| 2. AmazonBasics Backpack | Tough nylon materials | Regular standard size for 17inch laptop | 2lbs | 15x7x19 inches | Padded straps |
| 1. SwissGear 1900 Travel Gear TSA Laptop Backpack | 1200D ballistic Polyester | Regular standard size for 17inch laptop | 2.8lbs | 18.5×13.5×9 inches | Contoured and padded straps |
Top 10 Best Backpacks For College Student in 2019 [UPDATED]
Table could not be displayed.
10. JanSport Laptop Backpack Odyssey
Having trouble carrying your tech from class to class? Well, the JanSport laptop backpack is dedicated to giving you a cute organizational space for your devices. It has a soft laptop sleeve which can accommodate laptops up to 15 inches or a 3 liters hydration system. The protection it provides through the soft lining is essential to ensuring that your machine does not end up with a cracked screen if the bag bumps onto something. Better still, there's a compartment to hold smaller devices like your tablet or mini laptop.
There's ample space for other necessities thanks to the multiple pockets which include a loft pocket and a front utility pocket. It's pleasing to find an organizer on the utility pocket so that you can have every item at a moment's notice. The last thing you want is fumbling with objects when you are in the middle of an important class.
When it comes to actually carrying the backpack, you'll be working with ergonomically designed S-shaped shoulder straps. If you tend to carry heavy items, the dense padding protects your shoulders from aching since they do not dig into skin. Plus, the back contains mesh which is pretty important if you are attending college during hot summer months.
9. Tumi Calais Voyageur Backpack
If you need a sophisticated backpack, the Tumi Calais is your best chance at achieving that elegance. It is deemed the best bag for college students who love being fashionable. It makes a statement by itself just by the combination of nylon and leather in its construction.
Featuring a specially designed compartment for your laptop, it takes off the excess weight of your devices by having a soft interior lining. It also has extra space for your accessories, since it comes with several organizational pockets.
Its versatility allows it for use during travel like backpacking trips. You know well that weekends are better spent outdoors. Not to mention, it provides easy carriage of those heavy supplies. With the padded shoulder straps, you can be sure not to end up with chaffed skin. Also, the lock system is very admirable. Every pocket has zippers such that you'll feel when someone attempts to pick something.
8. Kensington SecureTrek Lockable 15-Inch Anti-Theft Laptop
There's nothing as frustrating to finding your laptop gone after leaving it unattended for a minute. That's where you need the Kensington lockable Anti-theft backpack. Kensington is the best bag brand that bears a protective aspect. This bag is your haven of safety for all your devices. No more repeating project reports when deadlines are almost here. With the hammerhead zipper, your laptop is secure no matter where you leave the bag.
Other interesting features include the workstation pocket which is well-organized to store all your essentials for class. This backpack can also be customized for travel. The large interior capacity means it can take a few clothes and supplies.
Not forgetting the padded back which gives you comfort during carriage. You'll love that it straddles comfortably on a travel case, so you won't have trouble when walking through crowded places with wheeled travel cases.
7. Incase Icon Slim Pack
The Incase Icon backpack is a super simple design. It achieves a slim look for students who don't need to take heavy books to class. You can just fit in a few thin notebooks, your laptop, and MacBook and no one will know you have that many items with you. This bag has a contemporary look so you can stay on par with fashion tastes even at minimal levels.
Incase Icon also checks the box for impact protection. The main laptop compartment is faux lined. This way, your device stays safe from screen cracks and breakage during transit. The back mesh allows ample airflow between your back and the bag such that you'll not feel sweaty after walking a flight of stairs.
You'll also be able to stuff other items like a water bottle so you can keep hydrated. What's more, it doesn't come with chest and waist straps which keep on getting stuck between chairs and desks. Plus it can stand on its own without having to input many items to stabilize it. The Incase Icon is definitely the best backpack for college students.
6. Everki Atlas Laptop Backpack Checkpoint Friendly
Everki Atlas presents us with the best backpack for college travel. It has all the bells and whistles to make moving from place to place fast and easy. It comes with dedicated spaces where you can put specific items for easy organizing. There's a pocket for your laptop and documents, so they'll not fold. It also includes an upper pocket to place important travel documents.
It's intuitively made with a 5-point strap balance mechanism to take off extra load. You are not bound to feel the aches of stuffing your bag full when going for hikes or long walks. It has wide straps which distribute the weight you feel, boosting your comfort level.
It's also nice that it has stretchy water bottle pockets. These pockets do not only accommodate soda cans, but they can also take larger stuff like umbrellas and other last minute items. It's incredibly useful when you have another travel bag as it can slide in through the handle for simple walks through check points.
5. The North Face Recon Backpack
If you have a busy college life, you don't want to keep rushing back to your dorm room to change books. With the proper backpack, you can have everything together and still stay organized. The North Face is the perfect companion for campus life. It has a large fleece-lined laptop sleeve for devices up to 15inches in size. The front compartment is also built to accommodate small gadgets like tablets.
It comes with over five exterior pockets to store electronics, sunglasses, water bottles, and even headphones. Surprisingly, the materials that make it are stiff enough such that it does not bulge and poke you in the back when carrying disproportional items. It has a padded mesh to not only increase transit comfort but to also provide enough ventilation to the back.
If you happen to be taking this backpack for trekking trips, rest assured your trip will be comfortable. The sternum strap and waist belt are quick to ease the load from your shoulders. You'll also find an emergency whistle in case you need help when out in the woods. The North Face is also the best waterproof backpack as it can withstand a good shower and still keep everything dry from the inside.
4. Ogio RSS Renegade Laptop Backpack
Do you wish you could carry your gaming laptop plus other accessories in one backpack? That's what the Ogio RSS Renegade offers. It is spacious and versatile to accommodate 17inch laptops with no hassle. It has separate storage compartments for everything you'll need during class and even for social club meetings.
It is perfect for stuffing a series of items without anyone taking notice of how heavy your backpack looks. This is because it retains its form even when it's well-loaded. This backpack is student-oriented with foam panels to protect against bumps. Anything can happen between one class and the next. Ogio uses their reactive suspension system to ensure your laptop does not crash in the case you drop the bag.
The utility pockets are plenty where you can find one to suit your exact needs. If you have a digital camera, there's a particular location for it as well as if you stash stuff on the side panels. The uni-body back channel is a great attraction among many students seeing that it offers extra cushion, so you won't feel fatigued when walking for extended periods. It stands as the best computer backpack you can buy for college years.
3. JanSport Big Student Backpack
If you are like most college students, you wonder where to get a fashionable bag which can take every single item for a busy day. JanSport saves the day with their stylish design that is very roomy. You can have it in lots of color themes to suit your taste for detail. After all, no one likes to dress up and have to carry a boring backpack.
This backpack comes with two large storage spaces so you can take important books and electronic devices as one package. You'll love that it comes with wide, padded shoulder straps to even out the weight. It is the remedy for when you don't feel so organized since the interior spaces are divided so you can store stuff separately.
It also comes with a front utility pocket, so you don't have to store pens and chargers in the large pockets. The side mesh pocket is essential when you want to reach out to your hydration bottle fast. Finally, there's a quick access phone pocket right at the top of the front side. Isn't it thoughtful?
2. AmazonBasics Backpack
You don't have to carry bulky books to own a good backpack. AmazonBasics got you covered with their laptop oriented bag. It's essentially the best for wide machines up to 17inches wide. The padding is perfect for a few books plus the device you'll be using. It has organized spaces in the other main pocket to ensure you place your pens and phones in individual areas.
You'll like it better if you are looking for a lightweight pack to carry all your school supplies. It is evident from the thin shoulder straps that it favors moving only subtle objects. The good thing with this brand is the thin back panel which ensures it stays away from heat entrapment during hot summer months.
To find an affordable but high-quality laptop backpack is no walk in the pack, but this model comes at a very attractive price tag. It is budget oriented, so you won't have to cough more money than you intend for a good college bag.
1. SwissGear 1900 Travel Gear TSA Laptop Backpack
Featuring a construction from durable 1200D polyester fabric, SwissGear is your best bet in acquiring an entirely waterproof bag. It is extra roomy, so you don't only store your laptop, but it will take up many more school supplies. The main compartment is rugged to protect items in harsh conditions. With the oversized zips, you can even use a small padlock to secure valuables.
This backpack achieves a flat styling when you place a wide laptop enabling it to pass fast through security checks. It is also built to open intuitively preventing anything from falling out during travel. The multiple front pockets make sure you can store keys, cell phone, pens, and other stuff in an organized manner.
For those that dislike backpacks because they tend to eat into your shoulders, it's fortunate that the SwissGear has contoured straps. They take off most of the weight plus since they are padded you'll barely feel a thing when it's fully stuffed. It is essentially the best waterproof backpack for school.
Concluson
Four years of college education need a reliable backpack to take you through every hassle and tussle of school. The best college backpack should have the capacity for your books, school supplies, and electronics.
Here we have chosen the brands that offer functionality and durability. We want you to enjoy school with a bag that can survive the heavy usage you put it through. Get organized and get one of these models for yourself.
Can't Find What You're Looking For? Check these suggestions: