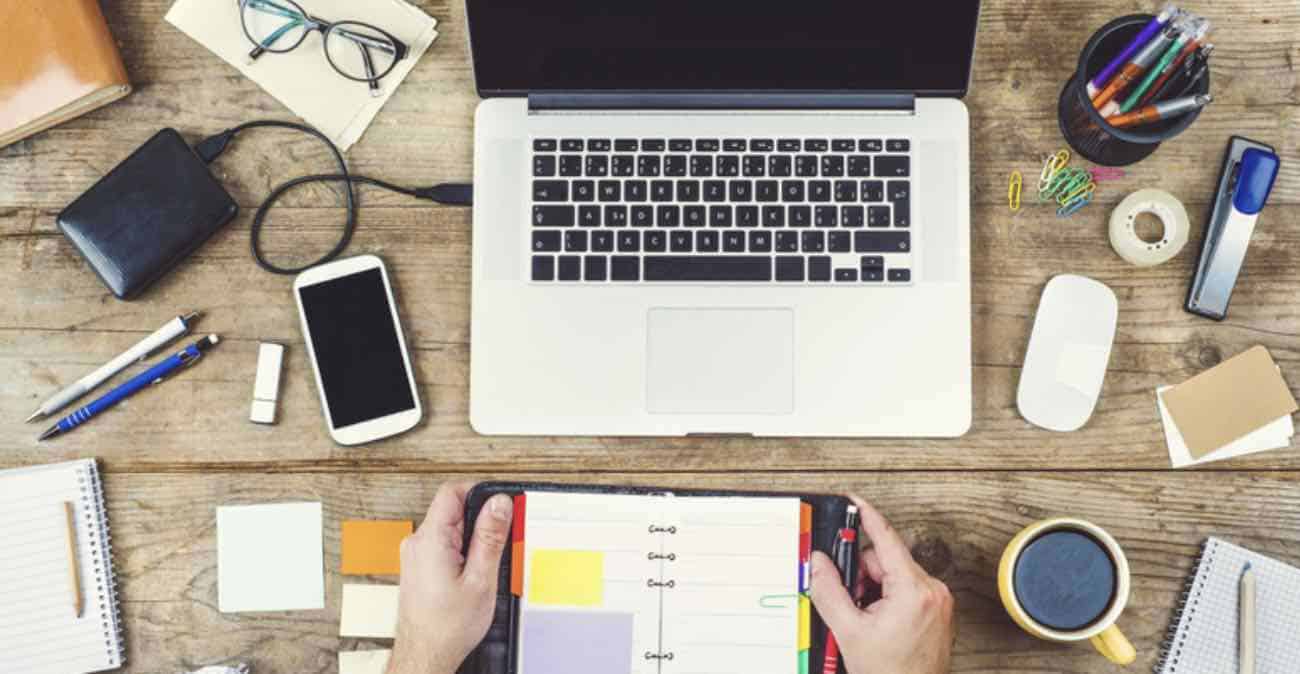 What if you are in a hurry to access your computer but unfortunately cannot recall your Windows password to access your required admin account? You would surely be in a great predicament as you won't have enough time to search for it and cannot enter the system at the same time. What a doomsday it would be in case of emergency.
Well, that is not the case always if you have the expertise to choose the appropriate support for your help. Needless to say that a computer can be a store house of immense documents, files, transaction details and many more with no end to the list of all that it can avail, but the safety of all the contents is the real concern here.
So what do you do? You simply create a password to safeguard your account from being exploited by strangers, but the situation takes it toll on you when you forget the password and are unable to enter the system. Here in this article we would demonstrate you an incredible way to reset your Windows password if forgotten with a powerful tool, called TunesBro WinGeeker Ultimate .

CleanMyMac X Review: The Best Mac Cleaner
TunesBro WinGeeker Ultimate  is one such tool which can bypass your password to allow you access to your system without the need of re-installing the system and losing the data of your computer. It may sound quite unbelievable but this product is well equipped with exactly what you need.
You surely cannot have the necessary expertise all the time to adopt twisted methods to gain access, thus TunesBro is so simple to use that even a novice in computers can pull it off just by following the guidelines given in this article. It is 100% authentic in resetting your Windows password without any doubt and can run in mostly all the operating systems, be it Windows XP/ 7/ 8/ 10.
It invariably comes in three versions, where each version has its own specific features which are easy to tell apart if you have tried both of them.
Prior to following the guidelines for the working of the tool, it is essential to have a thorough idea of the basic features of this tool, which are enlisted as follows:
It supports nearly all Windows servers namely 2000/ 2003/ 2008/ 2018 as well as latest Windows 7/8/10.
Works perfectly with 32 Bits & 64 Bits computers.
It resets local, administrator, Microsoft & root user password along with other domain passwords as well.
Perfectly compatible with over 2000+ computer brands and laptops like Samsung, Sony, Acer, Dell, HP, etc.
24X7 friendly support available.
The description on how the tool works is elaborated below.
TunesBro WinGeeker Ultimate
Every process needs some preparation prior to its execution. Similarly, there are some steps that are recommended before its use, which are enlisted below:
An accessible computer different from the one which is locked.
A bootable pen drive or DVD/CD with at least 512 storage capacity to load the program file.
The WinGeeker Ultimate program file.
Step 1. Firstly, download the WinGeeker Ultimate program file and install it correctly on a separate accessible computer system.
Step 2. Now; right-click on the utility icon off the desktop screen and "Run as administrator" to utilize all the admin privileges. The main interface operating window of the tool would appear instantly.
Step 3. In case you have downloaded the trial version, then you won't be able to reset the password but can only sort out the account which is locked out.
Step 4. Click on the "Register" account from the top right corner. Input the "Registration code" and licensed email" in the empty boxes after you have paid for the full version.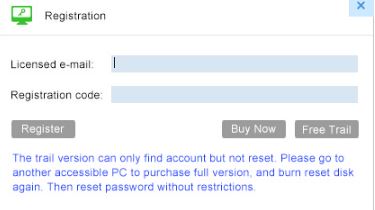 Step 5. Insert the pen drive in the accessible computer and run the program. Choose the USB drive as media type on being asked with options such as DVD/CD or USB drive.
Step 6. Click on "Burn USB" option to start burning the ISO image file into the pen drive. Upon succeeded, it notifies you with a message "Burning successfully". Click "Ok" to finish the process.
Step 7. Plug out the pen drive and re-insert it in the locked computer.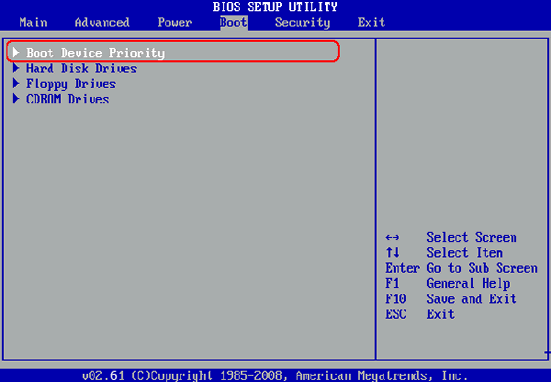 Step 8. Boot the locked computer by accessing the BIOS settings which can be turned up by pressing any certain keys, like Del or F1 or F8 or F10, depending upon the brand of computer you are currently using. From the "Boot Device Priority" menu, select "USB or CD/DVD" and the program will be loaded on the locked computer.
Step 9. Select the target locked account, click "Reset Password" and then "Reboot" button.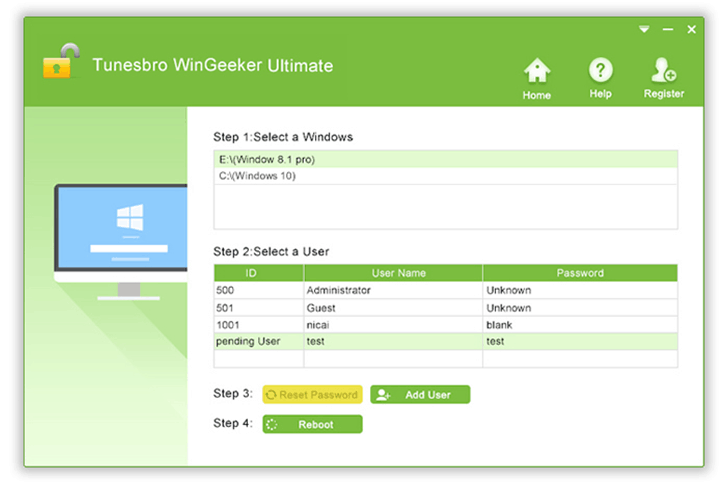 Step 10. The system would restart but this time, it will open the account without asking for any password.
Conclusion
If you ever come across a situation where you cannot recall your Windows Password, don't waste your time with trying different permutations of passwords, rather install TunesBro which is the best possible option you are left with and get done with your trouble. Just make sure that you don't create a complicated password again to avoid any further trouble in the nearby future.