DACs, or digital-to-analog converters, are a necessary component in any high-quality audio setup. But with so many options on the market, it can be difficult to decide which DAC is right for you.
In this blog post, we'll take a look at some of the best DACs under 500 dollars and help you decide which one is right for you. Whether you're looking for a powerful desktop DAC or something portable that you can take with you on the go, we've got you covered. So without further ado, let's get started!
Read more: Best DACs Under 200
GUSTARD DAC-X16 2 ES9068AS DAC Bluetooth 5.0
Gustard is a Chinese audio electronics company that specializes in the research and development of high-performance audio products. Headquartered in Shenzhen – one of China's leading tech hubs – Gustard is dedicated to providing music fans with affordable, top-quality audio products.
The GUSTARD DAC X16 is Gustard's latest product, which supports MQA full expansion decoding. The company has used two ESS company ES9068AS digital to analog conversion chips in the DAC. Moreover, the USB XMOS's xCORE-200 series 16 core XU216 processor is used in order to support native DSD and 32 bit PCM.
The OLED display on the GUSTARD DAC-X16 is a good feature. The white light display is highly recognizable and easy to use. The simple user interface makes it easy to navigate and control the DAC. The full-function remote control allows you to easily control all the features of the DAC. The amplitude frequency response is 20-20kHz/+-0.08dB and the power consumption is less than 15W. The dimensions of the DAC are 220mmx50mmx170mm and it weighs 2.5kg.
Overall, the GUSTARD DAC-X16 is a great product that offers high-quality sound and easy use. If you are looking for a good DAC, the GUSTARD DAC-X16 should be at the top of your list.
Specification
Supports a wide range of sample rates from 16-bit/44.1kHz to 32-bit/768kHz
Excellent signal-to-noise ratio (DNR) of >126dB
Extremely low crosstalk of -130dB@1kHz
Very low Total Harmonic Distortion + Noise (THD+N) of <0.00010%
Low Intermodulation Distortion (IMD) of <0.0004%
Can output 2Vrms and 4Vrms via RCA and XLR respectively
Has a power consumption of <15W
Dimensions: 220mm50mm170mm
Weight: 2.5kg
S.M.S.L M500 DAC Headphone Amp
For audio professionals who demand the very best, we proudly introduce the S.M.S.L M500 DAC headphone amp! This amazing piece of equipment features a USB input that supports MQA decoding, as well as top-of-the-line performance from an ES9038PRO D/A chip from ESS Technology.
With 32bit audio processing and support for DoP and Native DSD, you can enjoy your music with unparalleled detail and clarity. And thanks to our ultra-low phase noise and optimized clock processing circuit, you can enjoy listening to your favorite tunes free of noise and distortion.
Plus, the M500's high output drive capability ensures that even the most demanding headphones will sound great!
Specification
Input: USB / Opticalx2 / Coaxial
Output: RCA Headphone Amplifier/ RCA /XLR
Power Consumption: 5W
Standby power: <0.5W
Size: 85x88x197mm (WxHxD)
Weight: 0.91kg
AudioQuest – DragonFly Red USB DAC/Headphone Amplifier
The AudioQuest – DragonFly Red USB DAC/Headphone Amplifier is a great product that improves detail, transparency, immediacy, richness and tone in all music files. Compatible with both Apple and Windows PCs, as well as iOS and Android mobile devices, this versatile DAC can be used with a wide range of devices. It also features a high output that can drive almost all headphones, making it a great option for those who want to use it with headphones.
Additionally, the bit-perfect digital volume control ensures that you'll get the best possible sound quality from your music files. It can play files of all resolutions, from MP3s all the way up to high-res files. The asynchronous transfer ensures that the timing of the digital signal is maintained, and the high output drives most headphones, even power-hungry ones.
Finally, the 32-bit ESS 9016 DAC with minimum-phase filter provides great sound quality that is sure to please. If you're looking for a great DAC that can improve your music listening experience, the AudioQuest – DragonFly Red USB DAC/Headphone Amplifier is a great option to consider.
Positive
The DAC is small and portable, making it easy to carry around
It produces high-quality sound each time it is used
It works well with a variety of sound output devices
Dual-port allows user multitasking
Great price for the quality of performance it offers
Very easy to use with no attached
Negatives
Fewer features compared to other DACs on the market
Additional components might be needed
Sabaj D5 110V Hi-Res Audio Digital to Analog Converter
The Sabaj D5 Hi-Res Audio Digital to Analog Converter is the perfect way to experience true audiophile quality sound. Featuring a top-of-the-line performance from the ES9038PRO D/A chip from ESS Technology, this converter delivers stunning 32bit/768kHz and DSD512 audio processing.
And with all inputs supporting DSD streaming, you can easily enjoy your favorite music in its highest quality possible. Plus, the built-in high efficiency and low vibration transformer provide plenty of power and low noise for optimal sound quality. So don't miss out on the incredible sonic experience that the Sabaj D5 can provide now.
Specification
Input: USB / Optical / Coaxial / I2S
Output: Line (SE, XLR) / Headphones (SE, XLR)
Power Consumption: 8W
Standby power: 0.6W
Size: 245x50x210mm (WxHxD)
Weight: 3kg
Topping D50s DAC 2 ES9038Q2M
The Topping D50s DAC 2 is a high-end digital-to-analog converter that supports playback of high-resolution audio files up to DSD512 and PCM32bit/768KHz. With Bluetooth 5.0 LDAC transmission and THD+N as low as 0.00025%, it offers audiophiles an unmatched listening experience.
The XMOS XU208 and customized drive provide exceptional performance, while the OPA 162 SoundPlus and LME4972 High-Performance Audio OP amp deliver pristine sound quality. This product supports DSD64-DSD512(Native) and PCM16bit/44.4kHz-32 bit/768 kHz, making it perfect for any music lover looking to get the most out of their audio experience.
Plus, with coaxial and optical support for the highest PCM 24 bit/192 kHz and DOP DSD64, you can be sure that this DAC will provide you with unparalleled sound quality.
Specification
Input: USB/OPT/COAX/BT
Line Out Output: RCA
Power input: DC5V/1A
Remote control: 1
Size: 11.9cmx11cmx2.6cm (WxHxD)
Weight: 510g
S.M.S.L AO200 Digital Power Amplifier
The S.M.S.L AO200 digital amplifier is a powerful tool that can help improve the sound quality of your music listening experience. By using German Infineon's new technology class D power amplifier chip, this amplifier delivers higher-quality sound while also consuming less power overall.
With its Bluetooth 5.0 reception and color LCD display, the AO200 is easy to use and understand – perfect for any audiophile looking to get the most out of their music listening experience. This digital power amplifier uses NJRC's state-of-the-art electronic volume control chip (from Japan), so you can be sure of crystal clear sound quality. And with 300 watts of instantaneous power, it can handle even the most demanding audio tasks.
Plus, the balanced design minimizes distortion and ensures a smooth, true-to-life soundstage. So if you're serious about your music, don't settle for anything less than the S.M.S.L AO200!
Specification
Input: XLR, RCA, BT, USB
Output Power: 150W × 150W (2Ω), 90W × 90W (4Ω), 50W × 50W (8Ω)
Power Consumption: 40W (normal volume)
Standby Power: 0.5W
Size: 187.5×40×154mm (WxHxD)
Weight: 0.96kg
Monolith Desktop Headphone Amplifier and DAC
Looking for an audiophile-grade headphone amplifier and DAC? Look no further than the Monolith Desktop Headphone Amplifier and DAC. Featuring cutting-edge technology, this premium product supports PCM inputs up to 768kHz and a direct stream digital input of 2. 8/5. 6/11. 2 MHz.
It also features balanced & single-ended headphone outputs, making it compatible with all headphones and items. With its THX AAA amplifier, this device provides unparalleled linearity and fidelity, delivering an unbeatable soundscape. Whether you're a professional musician or simply a music enthusiast, the Monolith Desktop Headphone Amplifier and DAC is a must-have for anyone who wants to get the most out of their headphones.
Specification
Country of Origin: China
Input: Optical, Coaxial, AES/EBU, USB
RCA Input Impedance: 10 kilohms
Product Dimensions: 7.8 x 2 x 8.7 inches
Item Weight: 5.1 ounces
S.M.S.L SU-9 MQA Full Decoder ES9038PRO DAC
The S.M.S.L SU-9 MQA Full Decoder is perfect for anyone looking to get the most out of their audio equipment. With support for LDAC, APTX/HD, XBC, AAC, and the exquisite 24bit/192kHz UAT format, this DAC is sure to provide you with a listening experience like no other.
Featuring a DAC with an ES9311 power chip designed specifically for ESS DACS, the ES9038PRO performance is taken to its max potential. And with all digital inputs supporting DSD decoding, this product is perfect for audiophiles everywhere.
This powerful device comes with a shielded low noise conditioner to improve both sound quality and power efficiency. Plus, it offers wireless, wired, and XLR connectivity for added flexibility. Ideal for professional use, this unit delivers exceptional performance and reliability you can count on.
Specification
Input: USB / Optical / Coaxial / Bluetooth
Output: RCA /XLR
Power Consumption: 5W
Standby power: <0.5W
Size: 187.5x154x40 mm (WxHxD)
Weight: 0.79kg
EarStudio ES100 MK2-24bit Portable High-Resolution
Looking for an incredible portable listening experience? Look no further than the EarStudio ES100 MK2-24bit Portable High-Resolution Bluetooth 5.0 headset! This amazing device uses Qualcomm CSR8675 chipset and the latest Bluetooth software stack to provide superior sound quality, while its DualDrive Technology doubles the audio output of traditional headsets.
Plus, a 10-Band Equalizer allows you to customize your listening experience to perfection. Finally, iOS/Android remote control application lets you take complete control of your music.
Specification
Connectivity: Technology Wireless
Brand: EarStudio
Batteries: 1 Lithium Polymer (included)
Product Dimensions: 1 x 2 x 0.5 inches(WxHxD)
Item Weight: 0.704 ounces
Recent Update:
Added GUSTARD DAC-X16 2 ES9068AS DAC Bluetooth 5.0 LDAC XMOS XU216 DSD512 768KHz IIS Balanced Full Decoder (06/04/2022)
Added AudioQuest – DragonFly Red USB DAC/Headphone Amplifier (08/03/2022)
FAQs
DAC is best known for its amazing performance in transforming the digital signal to an analog type. And, while there are some DACs that have remarkable performance, you need to keep in mind that some of them have lower quality and may not give the best output. So, before you buy a DAC, here are a few factors that will help you decide which one is best for you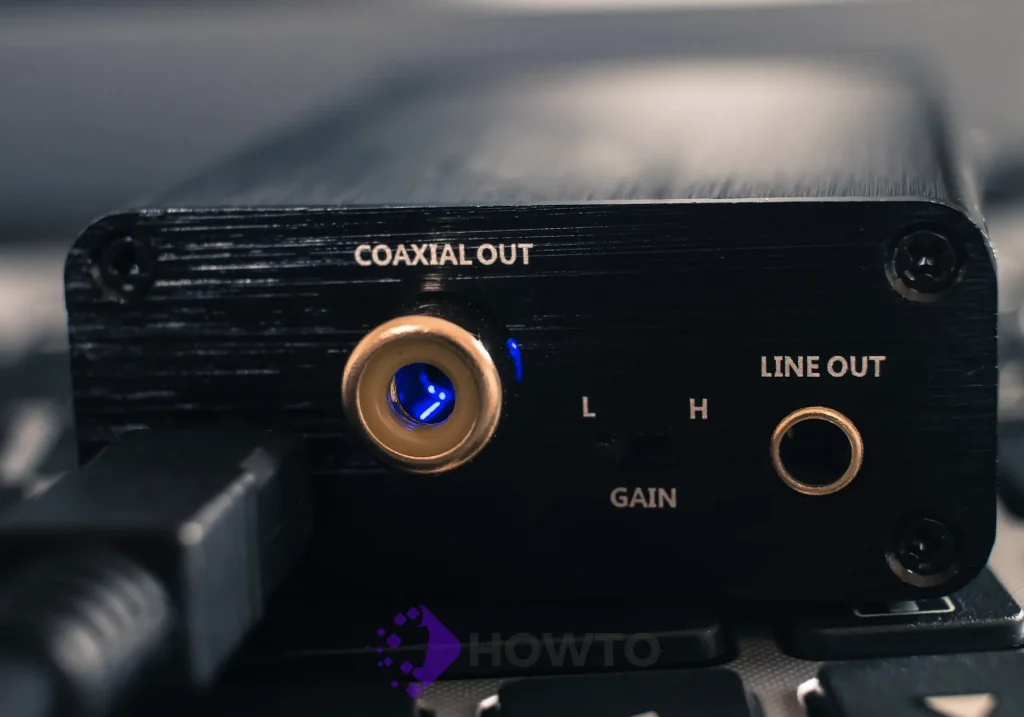 What is DSD and PCM?
DSD is a digital audio encoding scheme that is used to store high-resolution audio. It stands for Direct Stream Digital and was created by Sony and Philips. DSD files are stored in a .dsf file extension. PCM, or Pulse Code Modulation, is a technique used to digitally represent sampled analog signals. PCM files have a .wav file extension.
What to Consider When Buying a DAC?
When looking to buy a DAC, there are a few factors you need to take into account. The first is your budget. DACs come in a wide range of prices, so you'll be able to find one that fits your budget. Second, you need to decide what type of input and output best suits your needs.
Should I Choose Wireless and USB-connected?
There are two types of Dac connection systems available on the market. One that you can connect using a USB cable to your headphones or phone, and another that uses Bluetooth to connect devices. Choosing the proper DAC will depend on the type of device you have and your preference.
If you're comfortable with USB connections, by all means, go for it. The ideal option is to use a wireless Bluetooth connection since it is portable, requires no hassle of wire connections, and is simple to connect. Decide what you require, what you enjoy, and how convenient it is for you.
Do you need the Dac with Amplification feature?
Some DACs are available that do not power the speaker or headset. It's because they don't have an amplifier in it that makes the sound louder through speakers or headphones. To address these problems, the designers have started adding amps to DAC devices' amplifiers. You can simply connect it to the headphone jack and boost the device while maintaining sound quality.
Conclusion
Have a hard time picking out your next DAC? Fear not, we've done the research and compiled this list of some of our favorite DACs under 500. Whether you want to get an upgrade for your home listening experience or buy one as a gift, check these six products out! Let us know if there are any other models that deserve mention in the comments below.