Free or paid, PDF editors have their pros and cons. To save your precious time, we have curatedtop 10 best free PDF editors for Windows 10, so you can know, before downloading any software, which one to use (or try first) depending on your preferences. PDF editors that offer free trials, but are paid in reality, are also included in this list.
Why and who needs a PDF editor? You can save a file as a .pdf document in various software, but you can edit a PDF document in a very few. You need a PDF editor (not just a reader) when, for example, you receive a document in the PDF format and want to make some changes in it. Or, when you have saved a document as a PDF, and lose or delete the original editable document.
There are some other uses. In any case, a brief introduction to some of the top free PDF editors with their pros and cons will help you compare them quickly and pick the one that is best for you.

Setapp Review: The Best Mac Apps At One Place
Top 15 Best Free PDF Editors For 2021
Wondershare PDFelement 7 Pro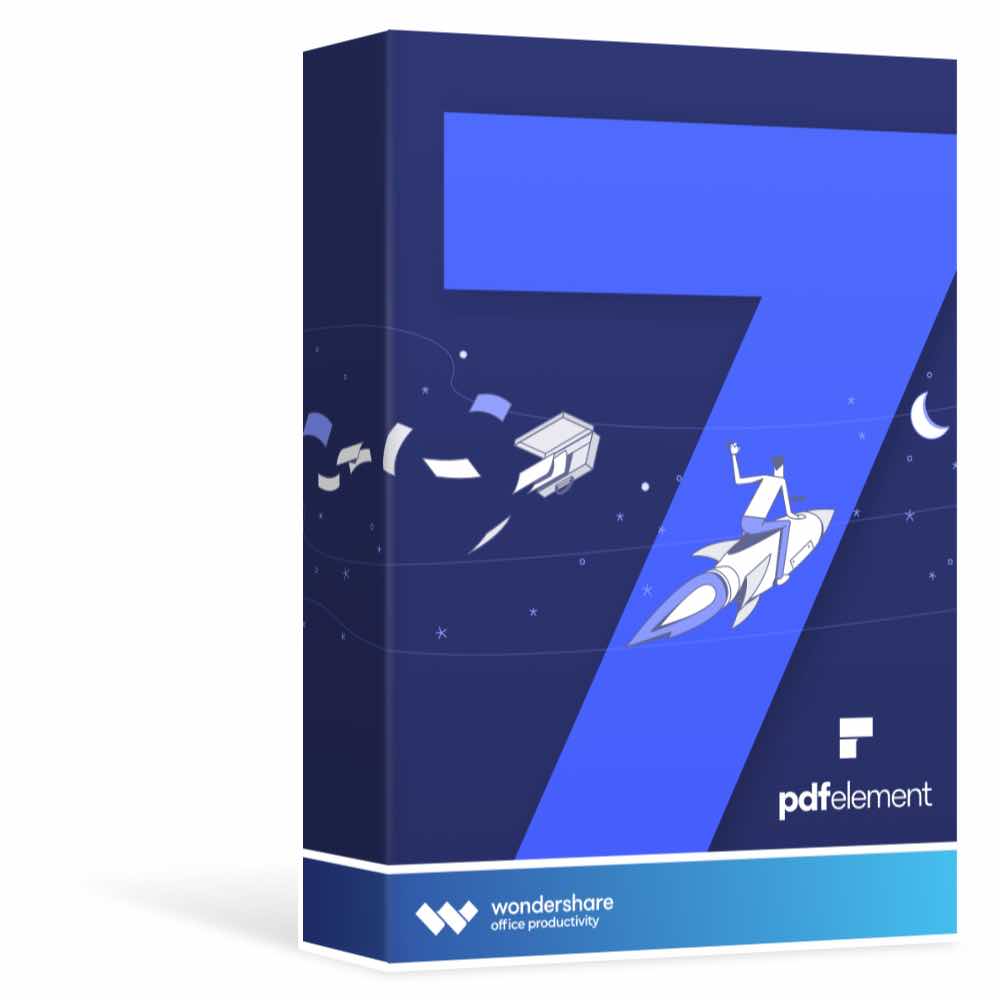 PDFelement 7 Review: All-in-One PDF Editor 30% OFF
A paid software offering a free trial, Wondershare PDFelement 7 is definitely the first software to consider. Wondershare PDF Editor helps you edit PDF files; insert and remove text and images easily. You can also change the format from PDF to any other with ease.
You can check out PDFelement 7 Review for further information!
PROS:
Easy to use
Great editing tools
Allow trying to the advanced OCR feature in the trial version
Support for converting PDF to Word
Cloud sharing of files
CONS:
No multicolor highlighting from toolbar
Free trial version is limited with watermark
| | PDFelement 7 Pro | PDFelement 7 |
| --- | --- | --- |
| Create PDF Files | YES | YES |
| Export PDFs to Docx, Excel,… | YES | YES |
| Edit Text & Images in PDF Files | YES | YES |
| Annotate and Comment PDF Files | YES | YES |
| Convert PDF Files | (x) + /.epub/.html/.rtf/.txt | .docx/.xlsx/.pptx/.jpg/.bmp/.png/.gif/.tiff (x) |
| Fill out PDF Forms | YES | YES |
| Secure and Sign PDF Files | YES | YES |
| Others (Compress and Optimize Documents, OCR, Add Headers & Footers, Add Bates Numbering) | YES | NO |
| For Mac | | |
| For Windows | | |
back to menu ↑
Sejda PDF Editor
Sejda PDF Editor is a simple PDF editor that allows you to edit preexisting text in the PDF without adding a watermark to the document. It works in most of the popular browsers such as Chrome, Firefox, Edge,…
PROS:
Easy to use.
Works on popular platforms (Windows, macOS, Linux)
No adding watermark
Allows you insert a new page into PDF file
CONS:
Can be used on PDFs with less than 200 pages
Can't edit PDFs larger than 50MB
back to menu ↑
ApowerPDF
The third free PDF editor on our list right now is ApowerPDF. The online version that starts with the 'Launch Online' option, offers real competition to premium software.
You can edit PDFs from scratch; a rarely found feature in free software. Not just edit, you can also split and merge PDFs with ApowerPDF. A lot of editing tools to try out and the ability to encrypt the files are also prominent features.
PROS:
Can create a PDF from scratch.
File encryption is possible
Ability to split and merge PDFs
Nice editing tools
CONS:
Adds watermark to the desktop version
Online version cannot remove watermarks
back to menu ↑
PDF-Xchange Editor
With built-in optical recognition system (OCR), PDF-Xchange editor is a great option for editing the text in a PDF. With the OCR technology, this software can recognize text in a scanned document.
This is particularly useful if you, for example, happen to only have a handout and not the original file. You can extract pages as well as split PDFs with the PDF-XChange Editor. Comments are also a noticeable feature.
PROS:
Free
OCR is good
Attractive interface
CONS:
Adds a watermark to your document when you try the premium version
back to menu ↑
PDFescape
DigitalTrends' #1 web app for September 2018, PDFescape is a great web app that is compatible with most popular browsers. You can insert and remove text and images. You can digitally sign the PDF document. You can rotate and zoom. PDFescape can autofill forms. The online version is free while the desktop version having the same functionality has a minimal fee per month after a free trial.
PROS:
Free online version
Ability to add rectangles to hide certain parts of a page when it's printed
Ability to create simple forms – a rarely found feature in free software
CONS:
Cannot edit pre-existing text
Does not have OCR features for scanned PDF file editing
back to menu ↑
Foxit Reader/Foxit PhantomPDF
Foxit Reader is a free and popular alternative to Adobe Reader. You can create PDFs, comment on them, get notified about new versions of a document when collaborating with others, encrypt and sign your documents, and whatnot.
The setup is quick and easy. Another popular but paid editor from the same company is the Foxit PhantomPDF editor, which is essentially an advanced version with several new features. It offers a 14-day free trial.
PROS:
Free – Fast – Secure
Collaboration options.
Built-in PDF printer feature
Protection and encryption
CONS:
The trial version of PhantomPDF has limited features
PhantomPDF appears to be a tad expensive (especially now when software subscription bundles are a norm)
back to menu ↑
AbiWord
AbleWord, TechAdvisor's #1 free PDF editor, has the ability to import PDF files and make them editable. The results are decent only when importing from Word, but it'll try its hand on every PDF; the results will not be as good as you would want.
AbleWord, with not as many options, can be used as an alternative to Microsoft Word. Headers, footers, tables, images, and spell check are some of the prominent features of AbleWord.
PROS:
Free & Easy to use
Ability to edit imported PDF files
Supports some of Microsoft Word features
Compatible with Windows XP, Windows 10, and all in between them
CONS:
The final output is not as good as other PDF editors
No updates or additional features are expected
Limited features
back to menu ↑
Inkscape
Basically a free and popular image viewer and editor with hundreds of positive reviews, Inkscape can also be used to create PDFs from scratch and edit imported PDF files within the software.
LifeWire's #2 and G2Crowd's #4, Inkscape makes it to #8 on OMGHowTo.com's list of best free PDF editors of 2018 so far. It's open source and suits people who want to add visuals to their PDFs.
PROS:
Open source
Supports many file formats
Has many drawing tools and vector graphics
Object creation and manipulation is possible
CONS:
No multipage document creation option
Non-customisable and messy user interface
back to menu ↑
Nitro PRO
A paid PDF editor offering a free trial, and second only to Wondershare PDFelement (according to them), Nitro PRO is another good PDF editor that made it to #9 on OMGHowTo.com's Top 10 List of Best Free PDF Editors for 2018.
As far as the security of documents is concerned, Nitro PRO is a great option to explore. Just like other popular PDF editors, you can edit, merge, review, and collaborate within the software.
PROS:
Fast
Easy to use
Safe and Secure
CONS:
Expensive
The trial version offers a limited functionality
back to menu ↑
FormSwift
FormSwift's free online PDF editor lets you create a PDF without the need of creating an account. With FormSwift online PDF editor, you can upload a PDF document, make changes to it online, and download the revised version as a PDF or Word document. You can even print it. It is not just limited to PDF; you can upload and edit Word documents and images as well.
PROS:
Several templates to help create a PDF
Free online PDF editor
Simple to use
CONS:
Very basic functionality
Online only
Expert PDF Reader
Another rival is Expert PDF Reader. As its name, Expert PDF Reader is really professional on providing us with many features on editing PDF file. Using it, you can have some unique features that others won't have such as insert stamps or make your own signature in pdf format.
One restriction of this does not support all kinds of PDF files, and in order to edit a file, you may have some difficulty if having not any knowledge on handling it. Having said that, it is very tiny and fast software with no charge to use and download. Why not give it a try?
PROS:
Support to read most of the PDF files
Support to save edited file in many formats
Totally Free
CONS:
Limited edit tool
Difficulties in using editing tool
PDF Eraser
PDF Eraser is considered as must-have software in your computer. It provides with excellent tools for viewing and editing a PDF file. One prominent feature is that you can quickly add or delete any information to or from your pdf file. It also supports the rotate function. Although it offers free, its no-charge version has some particular unwanted limitation.
If you want to have full of advanced feature, you should pay money to buy PRO version of PDF Eraser, which is approximate $30 for each. Having said that, if you just you it for basic tasks such as viewing the file, it is worth to use.
PROS:
Easily to add or delete any text
Customize PDF file
Support to rotate any PDF page
Easy to use with a ton of advanced features
CONS:
Watermark may be added in PDF file with free version
PDFedit
We name PDFedit in our top 10 because we find it is really good. You can use it as PDF reader along with its functions as PDF Editor. It supports user to detect exactly sections or words, a phrase they want.
Its tools help you to add texts quickly and imagine inside PDF file, also delete any information you want. It also supports to save a file in many types of format.
PROS:
Do not take up much space for installing
Can personalize its tools
Provide with many advanced features
Support to protect file with passwords
CONS:
Several difficulties on using its tools
LibreOffice-Draw
LibreOffice Draw is a strong competitor of other software here in this article. It is built-in all features of most of PDF Editing Software. It is entirely free with a simple way to use. Also, it supports us to export or import file to another type.
LibreOffice Draw is available for most of the platforms nowadays such as Windows, macOS, Linux,… However, we should admit that its appearance is relatively boring and its menu option is hard to track and may lead to some confusion for use in any way.
PROS:
Available for most of the platforms
Provide import and export functions
Provide with many advanced features
Support to convert files
Provide with many advanced features
CONS:
Boring interface
Its menu may cause confusion
Apache OpenOffice-Draw
We should say that Apache OpenOffice Draw is on our top for its great job to be done. It is worth to use as not only PDF reader, but also PDF Editor. You can find a bunch of features in this such as insert or remove any text, customize your pdf pages and save them easily with a different type of formats. Also, it supports us with export features, but it seems that the interface looks out-of-date without any attraction.
PROS:
A wide range of features
Compatibility with different platforms
Basic charts can be easily created
Support to check spell
CONS:
Out of date interface
Excel users are not welcomed for its functions
back to menu ↑
Verdict
Although it is hard to find free PDF editors with the functionality of a paid PDF editor, yet some free PDF editors on this list present a good challenge to premium software. All free PDF editors have their pros and cons and suit different people with diverse preferences.
We hope that this curated list helps you select the one suitable for you. Feel free to share your experience. Don't agree with the order in this list? Know some better alternatives? Let us know!